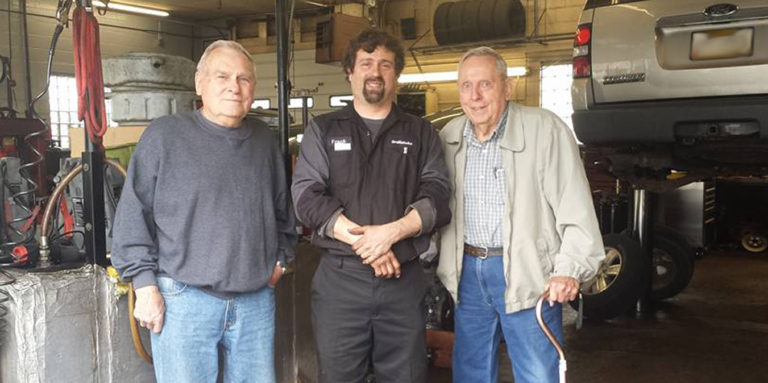 Frank Drellishak opened his auto repair shop on Center Ridge Road in Rocky River in 1945. Frank sold that business to his sons Gene and Dale who, over time, involved their own sons. The post-war automotive business was booming, so the family opened another Drellishak's on Lorain Road in Fairview Park, a location that once housed a gas station, a Studebaker dealership, and an auto clinic. The business split into two separate entities in 1988 and Dale and his son Gary got behind the wheel of the Fairview auto shop. After a while, Gary purchased the shop from his father.
Fast forward to early this year, Gary Drellishak decided to sell the Fairview shop. Keeping the business in the Drellishak family was not an option–or was it? Frank Costanzo and Gary Drellishak had been best friends since second grade, so when he joined the Drellishak's team 28 years ago, he was already family.
Now an experienced technician, Frank learned that Gary was looking to move on as owner. Frank, his wife Debbie, and their young son live in Fairview Park, so when discussions started about selling the shop, Costanzo's were there. They had already been discussing some renovations to the shop, but the one thing that will not change is the name. Perhaps they could add something to it to emphasize their full care care service. In May 2016, Drellishak's Fairview Auto Care came under the ownership of the Costanzo's.
"There was never a doubt that tis was the right thing for us to do," said Debbie, who co-manages the business with her husband. "Frank has always loved his job. Now we both love our jobs! This is such a great place to work!"
Drellishak's Fairview Auto Care has seven employees, most of whom who have worked there for years. The Costanzos are in the process of renovating, updating, and improving the shop, but Drellishak's at its core is still the same as when Frank Drellishak opened the place more than 70 years ago. They care for, and take care of, their customers, whoever they are, whatever they drive up in.
"Even if you've never been to Drellishak's before, you're not a stranger when you walk in," said Debbie. "You're a new friend!"